At Aston Hall Junior and Infant School, we believe the teaching and learning of Science is key to understanding the world around us and to help prepare our children for the future. 
We have selected our Super Science Ambassadors from our KS2 classes (Year 3-6). They will be working closely with the Science Leader to encourage and share the love of science across the school. We felt this was an amazing opportunity for children, who are interested and passionate about Science, to shine! 
Introducing our 2022 Science Ambassadors 🧪
Y3 – Noah and Grace 
Y3/4 – Nola and Hugo 
Y4 – Jacob and Georgia 
Y5- Miley 
Y5/6 – Alice 
Y6 – Charlotte and Evie 
Their role includes a number of duties:
– To share ideas in termly meetings and suggest ways to improve science at Aston Hall.
– To help with the organisation of Science resources.
– To assist teachers in setting up their classroom for Science lessons.
– To assist visitors around the school and discuss Science in school.
– To take part in pupil voice (questionnaires about Science).
– To feedback the thoughts and opinions to their class.
– To help in the running of Science Week (March 2022).
– Run weekly playtime Science activities (Y5/6 children to organise).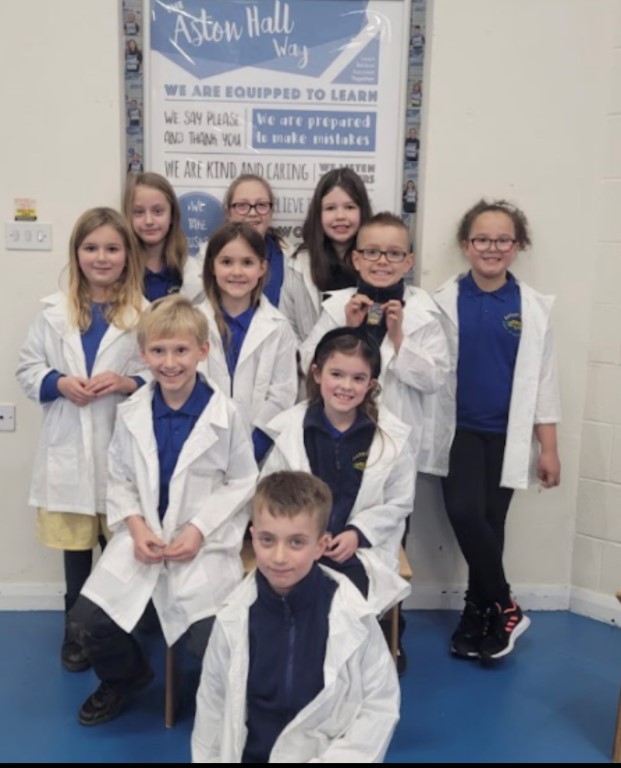 If you would like to find out more about our curriculum or have any queries please contact Mr S Holmes, Headteacher, using our contact details.